TUSA Intega Mask
With years of research, TUSA has developed a mask skirt that adapts to your face. The 3D SYNQ Fitting Ring adapts to the user's face creating a seal like no other mask. Large or small, wide or narrow, long or short, the TUSA Intega has you covered.

And this is not a marketing trick or just a statement. The 3D SYNQ Technology is a combination of features to allow that fitting perfection. First, the Intega features a new buckle system with the buckles mounted directly on the skirt. This is not really a new idea, but TUSA combines it with a skirt desgn that transforms the mask geometry by simply pulling the strap.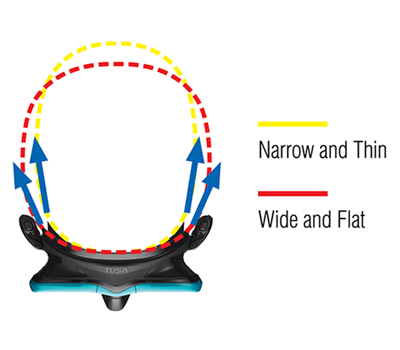 The top side of the mask allows for a very wide hinge type swing and to ensure it really fits all faces, Intega incorporates a very wide low friction internal seal lip. 

The Freedom Dry technology enhances comfort and fit by utilizing a revolutionary low friction skirt surface.The skirt fitting line (shown in red) features a low friction surface that delivers a superior seal and increases the facial area contact patch while significantly reducing excess skin tension. The result is a soft and supple feeling mask with a dramatically improved seal.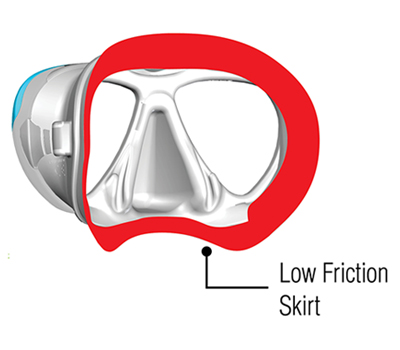 It is a quite low volume mask despite the framed construction and the lenses are position close to the eyes which gives about 20% increase of the field of view, compared to almost all other TUSA bi-lensed masks. The frame itself can be easily taken appart to change the lenses with corrective ones (sold separately upon special order.)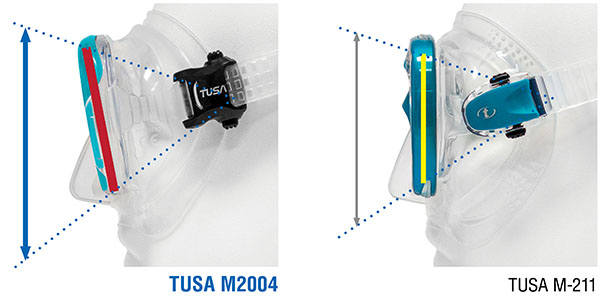 And here's the new Swift Buckle 3D buckle and mask strap system. This new low profile buckle is slim and lightweight and strap is silent and effortless when making adjustments.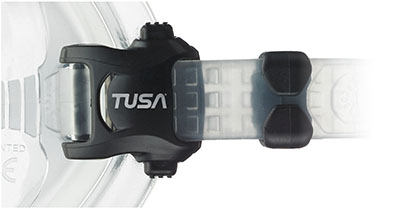 In addition to all these novelties, the Intega features the well known variable thickness Freedom skirt with round edges, which makes the TUSA masks featuring it absolutely superior. 
Features
NEW 3D SYNQ
NEW Swift Buckle 3D
Freedom Dry Technology
Round Edge Skirt
NEW Eco-Friendly mask case that is made from recycled material
Corrective Lens available: MC-211*
*sold separately upon special order