RATIO iDIVE FREE SPORT
The new iDive Free Sport edition is a combined freediving/scuba wrist computer, offering Taravana and Hemoptysis prevention in freediving mode and Buhlmann ZHL-16B algorithm for scuba diving.
New iPTM Algorithm for TARAVANA prevention with Automatic Recovery Time calculation
The iPTM is the first algorithm to calculate the recommended minimum recovery time between one free dive and the next one, to reduce the risk of Taravana.
Prevention for Hemoptysis and Pulmonary Edema
You just have to set the depth you want to reach and the iDive Free will guide you during your first three dives, to prepare your lungs' capillaries and reduce at minimum the risk of Pulmonary Edema and Hemoptysis.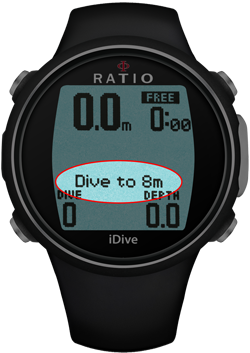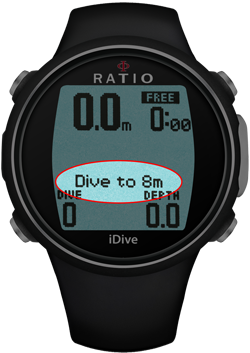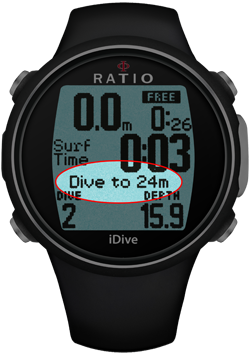 Training Stop-watch
Ratio iDive Free Sport offers full screen Stopwatch to clock your apneas with two stopwatch times to track your performances.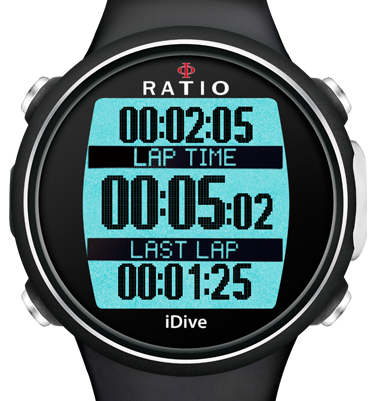 Freediving dedicated alerts

A full range of free-diving dedicated alerts:
• Depth alert
• Time alert
• User settable Depth goals alerts
• Depth goals alerts by user settable steps
Session data averages
Stainless steel protective bezel
A rock-solid stainless-steel bezel is there to protect the iDive's mineral glass.
The shield for iDive (sold separately) is best way to protect your iDive's screen from scratches and bumps. It is almost impossible to pierce. Small scratches are self-healed by the soft shell of the Shield, and if it is too scratched you can change it by yourself with a new one in few seconds. The iDive Sport bezel design has a dedicated slot for the Shield to prevent accidental lifts-off and to create a smooth design without edges.
Led SuperBright tecnlogy Backlight and Big Data
Extended life USB Rechargeable Battery
iDive Free is the watch dive computer with the World's longest autonomy.
• Up to 25 hours as a dive computer.
• Up to 2 months as a watch.
• Up to 6 months in Total Sleep mode.
If the iDive stays still for 5 minutes automatically turns off the display, reducing the battery consumption up to 80%.As soon as the iDive's sensor feels a movement the display will be turned on in 0,8 seconds. The iDive can reach 2 months of autonomy in normal use.
USB Recharge
• You can use any USB port to recharge the iDive, the wall charger of your smartphone is perfect.
• You do not have to change the battery annually.
• No risk of wear, humidity or seepage owing to the battery change.
• You can use all computer functions without worrying about battery exhaust. (Backlight, Compass, Apps ...)
• You can recharge the iDive wherever a USB port is.
Repetitive dives management
Featuring the Real time Algorithms, the iDive calculates your real tissue saturation status and calculates your repetitive dive profile according to your previous dives. This means that your profile is always optimized, even after more days of repetitive dives.
User settable Deep Stop and Safety Stop
Choose if you want the iDive to use the Deep Stops or not and choose depth and time you prefer to perform the Safety Stop.
Gauge AVG
Resettable Average Depth and Timer
Apps for iDive
• Weather forecast
• 3D self-compensating Compass: Extremely accurate and 1° of resolution and +/- 1° of accuracy. It always point to North even if it is not perfectly in horizontal position, because of its integrated accelerometer.
• Altimeter: With automatic altitude compensation for altitude diving.
• Thermometer: Celsius or Fahrenheit selectable
• Barometer: For the barometric pressure
• Pedometer: Steps, mileage, speed and burned calories to be set according to your body and your running style.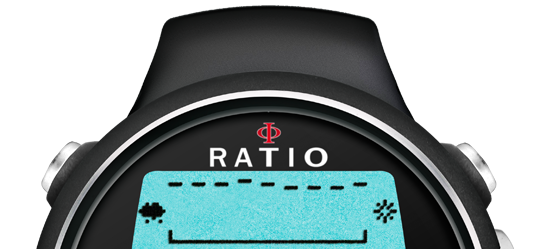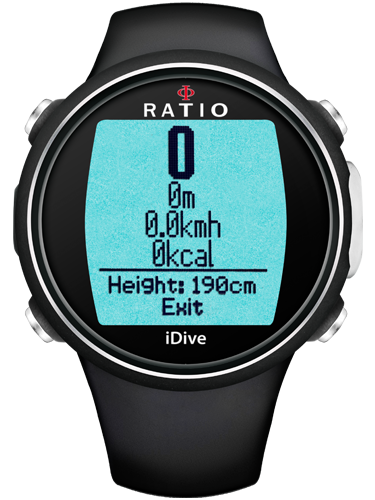 True Operating System
The updates are free, the new applications are free and the PC or Mac interface is included. The USB cable you use to recharge the iDive is the same you use to connect to the PC or Mac. The DiveLogger can be downloaded for free and there are no hidden cost at all.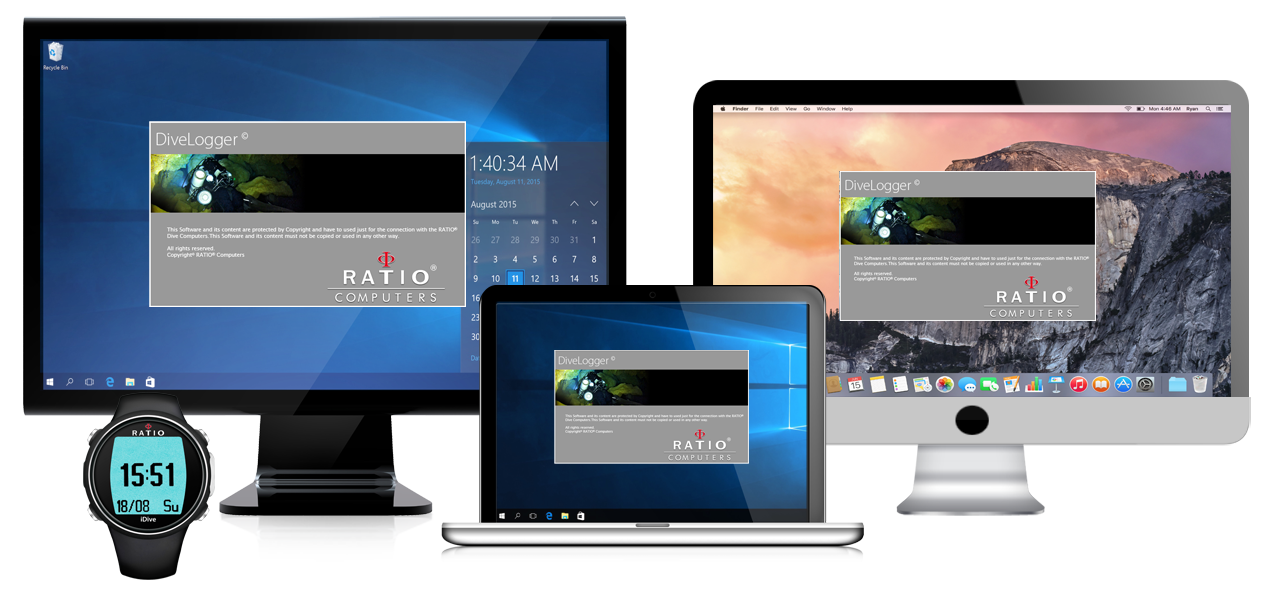 Colour Combinations (Case and Wrist Band): Yellow, Green, White, Black, Blue, Red, Pink